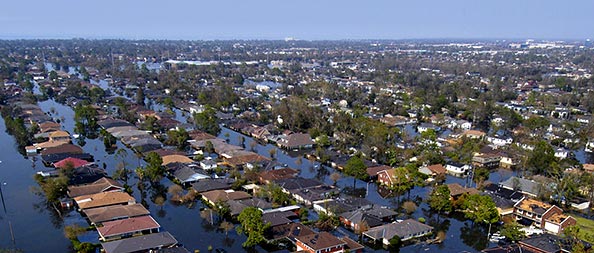 Rebuilding or Relocating: How to Respond to Climate Change
Join me Wednesday, April 5th, at 6pm for a lively discussion followed by a reception with drinks and hous d'oeuvres.
Tickets available here. 
Our coasts are vulnerable, now more than ever. Rising sea levels are jeopardizing coastal communities, forcing them to rebuild after flooding. But a question looms: Is rebuilding the answer? In the United States, we are witnessing the first efforts to resettle populations due to climate change. The Native American community on the Isle de Jean Charles in south-eastern Louisiana will move in its entirety with the help of a climate resilience grant from the federal government. Similar efforts are currently under way in Newtok, Alaska. Yet, cities in the northeast of the country continue to grow and build along their waterfronts. The 2017 Happold Foundation Lecture, presented in partnership with the New School's Tishman Environment and Design Center and the Zolberg Institute on Migration and Mobility explores the physical and social consequences of climate change and compares the community responses in Louisiana or Alaska with those in the northeast.
Keynote speaker Harriet Tregoning, former Principal Deputy Assistant Secretary for the Office of Community Planning and Development at the US Department of Housing and Urban Development (HUD), will introduce the topic and provide an overview of the impacts of climate change on the social and physical fabric of our towns and cities. She will talk about her experience working with communities across the country and share ideas to address their challenges. Following her lecture, Kate Ascher, Milstein Professor of Urban Development at Columbia University and partner at BuroHappold, will moderate a panel discussion addressing economic, social, and physical implications of climate change. Joining Kate and Harriet will be panelists Elizabeth Rush, the Andrew Mellon Fellow for Pedagogical Innovation at Bates College who has dedicated her work to climate change and its effects on populations, and David Waggonner, president of Waggonner and Ball Architects, a firm that has worked extensively in post Katrina New Orleans.
The Happold Foundation
The Happold Foundation, founded in 1995 and financed by the partners of the engineering firm BuroHappold, is a charity dedicated to using engineering skills and experience to make a positive impact on people's lives. Working in the areas of human development and education, the foundation helps students to take the next step in their education, and engineers to work in some of the most challenging environments. As part of its mission, it hosts a series of events, among them an annual lecture on a topic that the foundation considers to be vital to the development of the engineering industry and society as a whole.