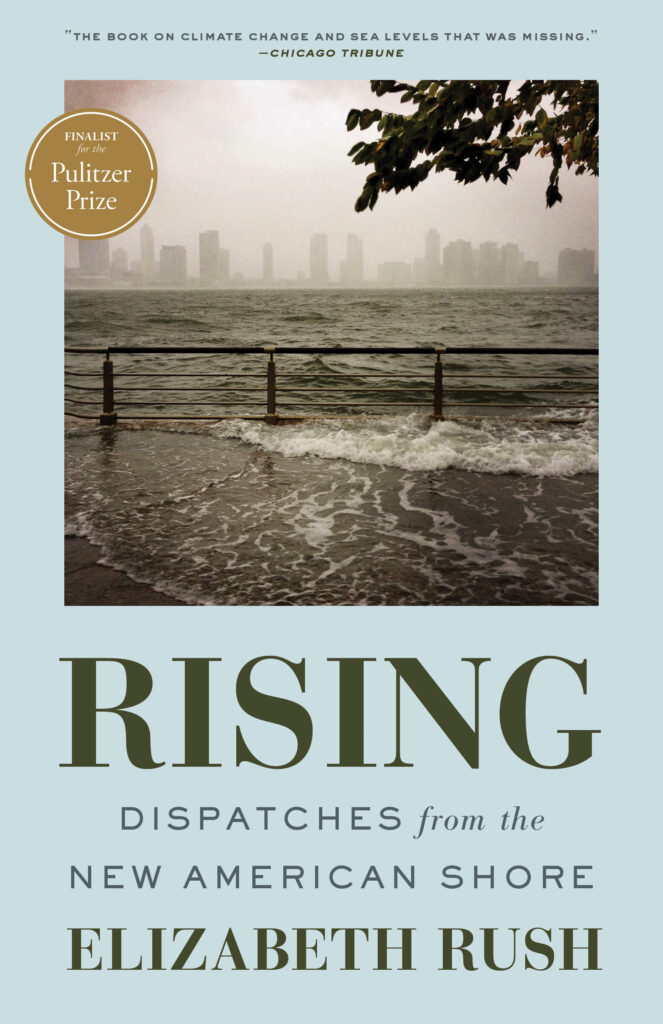 FINALIST FOR THE PULITZER PRIZE IN GENERAL NONFICTION
WINNER OF THE NATIONAL OUTDOOR BOOK AWARD
A CHICAGO TRIBUNE TOP TEN BOOK OF 2018
A GUARDIAN, PUBLISHERS WEEKLY, LIT HUB, AND LIBRARY JOURNAL BEST BOOK OF 2018
Hailed as "deeply felt" (New York Times), "a revelation" (Pacific Standard), and "the book on climate change and sea levels that was missing" (Chicago Tribune), Rising is both a highly original work of lyric reportage and a haunting meditation on how to let go of the places we love.
With every passing day, and every record-breaking hurricane, it grows clearer that climate change is neither imagined nor distant―and that rising seas are transforming the coastline of the United States in irrevocable ways. In Rising, Elizabeth Rush guides readers through some of the places where this change has been most dramatic, from the Gulf Coast to Miami, and from New York City to the Bay Area. For many of the plants, animals, and humans in these places, the options are stark: retreat or perish in place.
Weaving firsthand testimonials from those facing this choice―a Staten Islander who lost her father during Sandy, the remaining holdouts of a Native American community on a drowning Isle de Jean Charles, a neighborhood in Pensacola settled by escaped slaves hundreds of years ago―with profiles of wildlife biologists, activists, and other members of these vulnerable communities, Rising privileges the voices of those too often kept at the margins.
---
Here is what folks are saying:
"Deeply felt . . . Rush captures nature with precise words that almost amount to poetry; the book is further enriched with illuminating detail from the lives of those people inhabiting today's coasts. . . . Elegies like this one will play an important role as people continue to confront a transformed, perhaps unnatural world."―New York Times
"A rigorously reported story about American vulnerability to rising seas, particularly disenfranchised people with limited access to the tools of rebuilding." ––Pulitzer Prize Jury Citation
"The book on climate change and sea levels that was missing. Rush travels from vanishing shorelines in New England to hurting fishing communities to retracting islands and, with empathy and elegance, conveys what it means to lose a world in slow motion. Picture the working-class empathy of Studs Terkel paired with the heartbreak of a poet."―Chicago Tribune (Best Ten Books of 2018)
"A smart, lyrical testament to change and uncertainty. Rush listens to both the vulnerability and resiliency of communities facing the shifting shorelines of extreme weather. These are the stories we need to hear in order to survive and live more consciously with a sharp-edged determination to face our future with empathy and resolve. Rising illustrates how climate change is a relentless truth and real people in real places know it by name, storm by flood by fire."―Terry Tempest Williams, author of The Hour of Land
"A sobering, elegant look at rising waters, climate change, and how low lying areas and the vulnerable people who live in those areas are at risk." ––Roxanne Gay, Goodreads
"Sea level rise is not some distant problem in a distant place. As Rush shows, it's affecting real people right now. Rising is a compelling piece of reporting, by turns bleak and beautiful."―Elizabeth Kolbert, author of The Sixth Extinction
"Lovely and thoughtful . . . Reading [Rush's] book is like learning ecology at the feet of a poet."―Minneapolis Star Tribune
"With tasteful and dynamic didactic language, [Rush] informs the layperson about the imminent threat of climate change while grounding the massive scope of the problem on heartfelt human and interspecies connection."―Los Angeles Review of Books
"Moving and urgent . . . Rush's Rising is a revelation. . . . The project of Rising, like the project of Matthew Desmond's Pulitzer Prize-winning Evicted: Poverty and Profit in the American City, is to draw attention to ongoing material crisis through the stories of the people who are surviving within it. Rising is a clarion call. The idea isn't merely that climate change is here and scary. There's a more important message: There are people out here who need help."―Pacific Standard
"Timely and urgent, this report on how climate change is affecting American shorelines provides critical evidence of the devastating changes already faced by some coastal dwellers. Rush masterfully presents firsthand accounts of these changes, acknowledging her own privileged position in comparison to most of her interviewees and the heavy responsibility involved in relaying their experiences to an audience. . . . In the midst of a highly politicized debate on climate change and how to deal with its far-reaching effects, this book deserves to be read by all."―Publishers Weekly (starred review)
"Rush traffics only sparingly in doomsday statistics. For Rush, the devastating impact of rising sea levels, especially on vulnerable communities, is more compellingly found in the details. From Louisiana to Staten Island to the Bay Area, Rush's lyrical, deeply reported essays challenge us to accept the uncertainty of our present climate and to consider more just ways of dealing with the immense challenges ahead."―The Nation
"A strange new kind of travel guide, Rising is a journey through the turbulent forefront of climate change―the coastal communities, rich and poor, human and nonhuman, that are already feeling the first effects of our rising seas. Rush sets out to put a face on a subject that is all too often depicted in abstract graphs and statistics, and gives us a group portrait of the men and women who are fighting, fleeing, and adapting to the terrible disappearance of the land they live on."―Charles C. Mann, author of 1491
"In this moving and memorable book, the voice of the author mingles with the voices of people in coastal communities all over the country―Maine, Rhode Island, Louisiana, Florida, New York, California―to offer testimony: The water is rising. Some have already lost their homes; some will lose them soon; others are studying or watching or grieving. Though they haven't met each other, their commonality forms a circle into which we are inexorably pulled by Rush's powerful words."―Anne Fadiman, author of The Spirit Catches You and You Fall Down
"A poetic meditation on the nature of change, on how people can make peace with a changing world and our agency in it . . . Rising [offers] pulsing, gleaming prose and a stubborn search for, if not hope, then peace in the face of disaster."―Shelf Awareness
"Rush rises. She brings stories out of the woodwork, revealing the true effect of sea level rise on the land, on the sea, and on people. She writes from a generation not asking if climate change is true or not, but how to live in the face of it, how we adapt, lose, or gain. Logging the finest, most intuitive details, Rush holds her subjects in tight focus, each coastline conveyed down to its grains of sand and inflections in the tides. Her writing is present among relocations and dying swamps, conveying the intricate nature of sea level rise. How do levees work? What does saltwater do to a freshwater aquifer? What voices are coming out of the wrack line, and what does it sound like as a coast is rewritten? Rush makes real a monolithic subject often too large to digest. You can taste the coming salt."―Craig Childs, author of The Animal Dialogues: Uncommon Encounters in the Wild
"Rising is not just a book about rising sea levels and the lost habitats and homes―it's also a moving rumination on the rise of women as investigative reporters, the rise of tangible solutions, the rise of human endeavor and flexibility. It is also a rising of unheard voices; one of the eloquent beauties of this book is the inclusion of various stories, Studs Terkel-style, of those affected most by our changing shoreline. A beautiful and tender account of what's happening―and what's in store."―Laura Pritchett, author of Stars Go Blue
"From the edges of our continent, where sea level rise is already well underway, Rush lays bare the often hidden effects of climate change―lost homes, lost habitats, broken family ties, chronic fear and worry―and shows us how those effects ripple toward us all. With elegance, intelligence, and guts, she guides us through one of the most frightening and complex issues of our time."―Michelle Nijhuis
---
At once polyphonic and precise, Rising is a shimmering meditation on vulnerability and on vulnerable communities, both human and more than human.
You can order Rising most places including on the Milkweed website, Amazon, or at your local bookstore through Indiebound.